Spring Break is nearly upon us - which means swim sewing season is ALREADY here! It also means my promise for a rashguard + shelf bra tutorial is nearly a year old. (Woops..) Better late than never, I suppose! For the sake of expediency, this is a "down and dirty" tutorial which requires a basic understanding of garment construction and swim-sew experience. If you are a beginner swim sewist I suggest you check out my earlier swim suit post for additional hand-holding on your maiden swim-sewing voyage! It's one of my favorite things to sew - I hope you give it a whirl!
I'm also using present Cali Fabrics swim suit stock as stand-ins (main / lining) since my original project (seen below) was made in their swim knits as well! It's still the largest selection of swim knits I've found in any one place - but I welcome you all to share other resources in the comments below!
Here's what we'll be making:
Before you begin:
Start with a fitted raglan pattern. (I used the Kitschy Coo Trifecta Raglan) Adjust lengths & grade hips/waist/bust to your custom size per usual.
Swim Suits should fit like a second skin, and swim material (Nylon/Lycra) has more stretch than most garment patterns are drafted for. Size down WIDTH only based on your pattern's recommended stretch.
You may want to double up on your lining fabric for bust support, or hand-stitch foam cups inside your shelf bra.
Shelf Bra placements here are based on my short-waist, small-bust experience. If you've sewn this pattern before, wear the garment and use tailor's chalk to mark your under bust placement. This will give you the best idea of your custom shelf bra size. (Alternately, baste your front/back bodice together and pin it up over your shirt to trace your shelf bra shape that way.) Remember to add an inch hem allowance for your elastic!
I use 1 inch elastic because I find it more secure. If you have a different size elastic, adjust your hem allowance accordingly.
Big bust? You are rightfully suspicious that this won't be enough support for you. If you're tempted to try it anyway, just be sure to check that you can get your underbust-elastic-loop over the fullest part of your chest/shoulders. Otherwise you'll need to adapt this tutorial to add a zipper.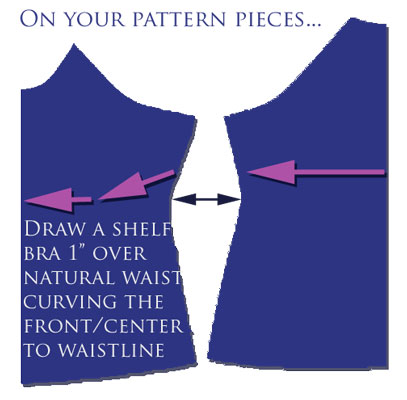 Clear as mud?? Let me know what I can clarify! Otherwise, enjoy, friends!