4PM on Tuesday, I picked up a robo-call from my daughter's school informing me that Thursday was "Read Across America" Day in honor of Dr Seuss's 113th birthday. 8AM Wednesday I thought to myself "Hey, I could make outfits for that!". What is it about mornings and that first rush of caffeine that puts such fantastical thoughts in my head?
Unfortunately, when I had these grand ideas, I also shared them. Out loud. Promising my 5 and 3 year olds to "turn some tshirts into coloring book pages for you to color and wear to school!"
So, I opened the fabric store. Standing perplexed in front of the doors at 8:58am wondering why they wouldn't open, having never known a day productive enough to be at the store so early.
I hunted down Dr Seuss fabric - which I found, but only with white backing (and therefore very see-through) - and white tshirts for vinyls - which I also found... in a "Youth Small" (which is code for "Child's XL"). Then it dawned on me. I might have to drive 40 minutes out to the BIG fabric store. And also make shirts.
Panic set in.

Fast forward to 2PM, I sat with all my fabric before me, ready to assemble my Jennuine Design Satya pants pattern, the few pages (bless you, Foo Foo Threads!) I needed for a fast and easy Four Seasons Dress, and the recess raglan pattern pieces I'd hoarded (ahem) saved from when K was E's size... 2 years ago.

The rest of the day was a blur of real grown up responsibilities, and frantic thread-snipping, fabric-gathering, and seam-pressing.
What it meant though, was that my kids woke up to find this:
Bonus: I got an extra 15 minutes to sleep in while they colored their masterpieces!
Dad didn't though. He snapped these pictures for me!
The last piece of the puzzle was the Who-Hair. Which I'm feeling quite proficient at now, on my 3rd time giving K a Who-makeover.
The trick? Dixie cups and cotton balls. It's virtually weightless, and shapes the sky-high hair style perfectly!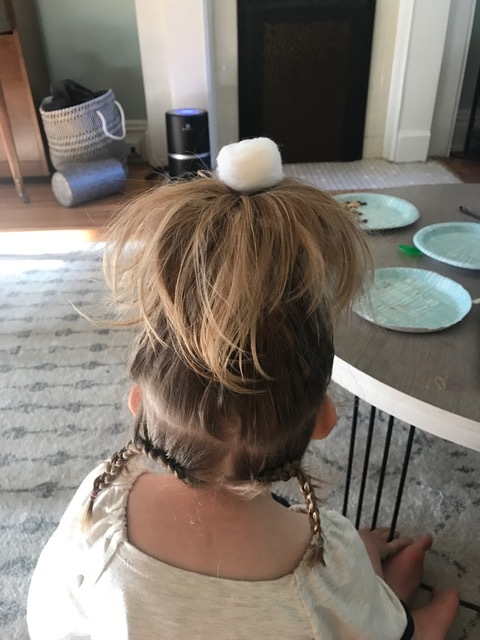 Anyhow, one sink full of dishes, food-bare refrigerator, and mounting pile of fresh laundry later - my kids had epic Dr Seuss outfits, gravity-defying hair, and a mom excited to share her en-seuss-iasm by reading to each of their classes this morning. The last 48 hrs may have been a blur, but boy were they fun!